Safe Standing. Yes, I know, you've heard it all before. It's not just Rangers fans who are familiar with the term, although it is something that has been circulating around the club and the fans for quite some time now. Despite this, I still feel its an important issue to review, and maybe this article will rejuvenate the backing for the technology amongst our support. Our fans are world-renowned for their loyalty, passion, and atmosphere, but I - along with many others - believe we need to bring a new electric environment to Ibrox. To do this, we need safe standing.
But first, let's delve into the history of standing at football grounds. I'll explain what safe standing is, how it has worked for other clubs, and why Rangers need it.
The history of the standing debate in the United Kingdom sparked nearly 50 years ago. Rangers fans will, unfortunately, be familiar with the date; 2nd of January 1971. The Ibrox Disaster. An event that still haunts all those associated with the club today. After fans fell on tightly-packed Stairway 13 in the 90th minute of an Old Firm tie, a major pile-up killed 66 people, injuring hundreds more. This was the worst stadium disaster in British history, and subsequently, Ibrox Park became an all-seater stadium. This disaster ultimately led to the creation of 'The Guide to Safety at Football Grounds'.
On a fateful day in Sheffield 18 years later, the way British fans attended football matches would drastically change forever. The tragic crush in the pens at Hillsborough on the 15th of April 1989 saw the death of 96 Liverpool fans, and the compulsory requirement for all-seater stadiums was introduced in England and Wales, as a result. This is still in place today.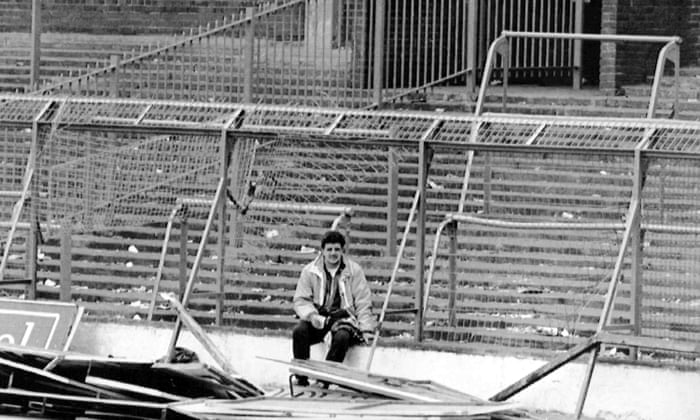 In 1998, The Scottish Premier League proclaimed that clubs in Scotland must have an all-seater stadium as part of league membership. This applied until 2011 when the SPL announced that it was relaxing the legislation. At this point, the pioneers of safe standing in Europe were Germany, and the use of 'rail seating' has become the most common design for standing fans.
Rail seating is a design that allows fans to stand in safe spaces and can be converted back to seats when suited. It's currently adopted by almost half of the top-tier German teams, English League Two side Shrewsbury Town, and of course, Celtic.
As aforementioned, the Germans are the top guys when it comes to safe standing, and it's quite apparent how much of an impact that has on the noise from the fans. Do I even have to mention Borrusia Dortmund's majestic 'Yellow Wall', one of the greatest spectacles in world football? Of course, that's a dramatic example, as I don't expect the board to unveil a 20,000 standing section any time soon.
9 of the 18 Bundesliga teams use rail seating as their method of standing, including our Europa League RO16 opponents, Bayer Leverkusen. Heck, even Hamburg uses them in the second division. So how would this work for us? Precisely the same as another particular Glasgow side. When they ARE competing in Europe, the seats are unlocked to accommodate UEFA's rules, and back into standing segments for all other competitions.
The most vocal crowd aiming to implement rail seating at Rangers are the Union Bears, the ultra-fan group that conducts the atmosphere at Ibrox. For what feels like an eternity, the boys from BF1 have been calling for the club to take action and introduce safe standing to a section of the current all-seater 51,000 capacity arena in Govan.
Disputes with the club have occurred, and The UB feel Rangers take advantage of them, using their incredible tifos for commercial utilisation without acknowledging their requisitions. In February 2019, the organisation conducted a series of protests, amongst a statement which included:
"The club seems content to benefit from the group's presence when it suits their motive, offering nothing in return".
I've got to agree, as Rangers fans have really cried out for this, yet no crystal considerations have been made. We asked Rangers FC for comment, yet received no response.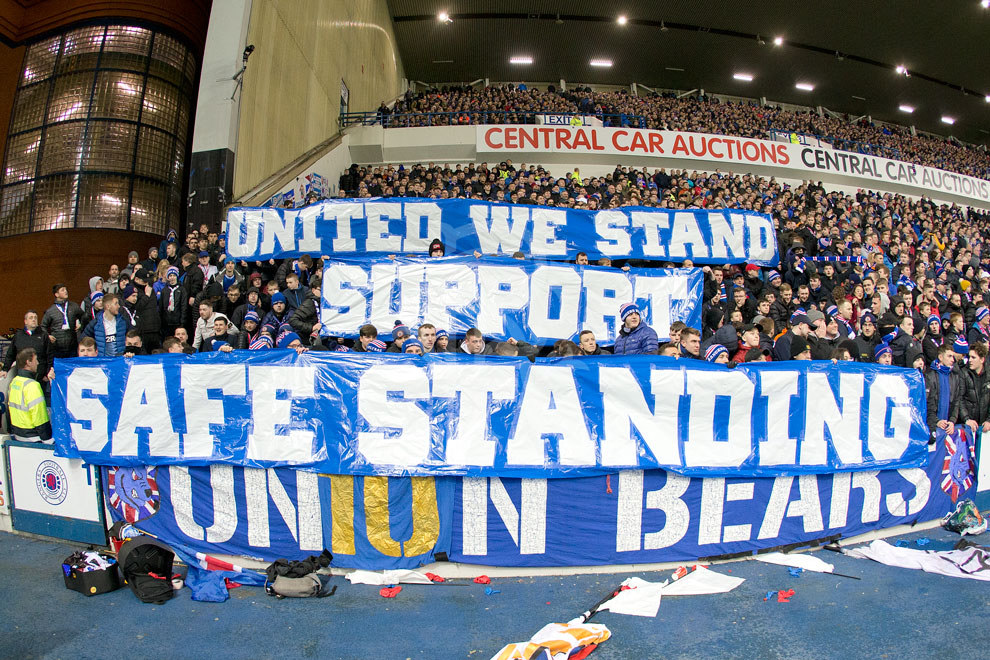 Some fans can't, or (for whatever reason) don't want to stand up, and they have to be respected too. Creating a section where aficionados, who are willing to avoid injuring themselves celebrating an injury-time winner (I say from experience), can go and create a dynamic climate in the stadium. Hopefully, stopping the feuds between our supporters.
I spoke to the fantastic team at This Is Ibrox, for some of their inputs.
First up was the gaffer, Adam - the guy behind most of the work here at This Is Ibrox:
I'm all for safe standing! I think it will add to the atmosphere within the ground, it will also show that the club is forward-thinking and value the fans' opinions.
Martin (@martinD89), who hosts our informative brand-new podcast, had this to say:
Safe standing for me is a must, it brings a far better atmosphere and, for a lot of people, it is less cramped. The seats at football grounds are both uncomfortable and too small.

Away games prove to me that it is safe to stand and without a doubt create more noise and passion from supporters".
If you are a frequent reader of the This Is Ibrox blog, you'll be aware of Tommy (@tommynglasgow) for his incredibly witty articles. He also had an input:
"Absolutely agree on the benefits of safe standing and that every ground should (as far as practical) have at least one standing section. There does have to be the obvious and necessary safety and organisational analysis done to assist in the implementation as well as cost.

Finally, it requires to be clarified who exactly gets access to this area? For example would one at Ibrox be exclusively for the Union Bears? Whilst I think the UB give the stadium an exceptional atmosphere what happens if they fall foul of the club? Would there be explicit demand for 'normal' fans to want standing? In addition, would this areas' season ticket allocation be ring-fenced for the 'ultras'?

On balance I'm still of the desire to see safe standing at Ibrox and all for it to be nominally allocated to a group such as the Union Bears subject to the usual code of conduct."
If after thousands of words from me and the This Is Ibrox team, you still aren't convinced that this is the way forward for Rangers, and British football as a whole, there is little left to help you. It's astonishingly evident just how much Safe Standing has an influence on fans in terms of increasing the atmosphere. Supporters standing up in unison provides a chance to generate huge noise, louder songs. Furthermore, it would be of a timely manner to unveil plans for safe standing as part of our sesquicentennial celebrations in 2022, alongside a proposed capacity increase at Ibrox. A boost for the fans in the stands and the players on the pitch.
Article by Sam Sneddon (@samjsneddon)